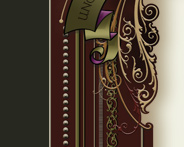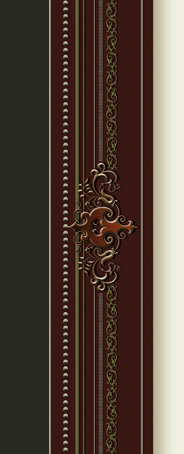 Free Stuff
Here's some random stuff we've created over the years for use in our own projects. We thought you might find them handy too. You're welcome to use these for commercial purposes, but redistribution is prohibited. If someone asks you where you got it, tell 'em Letterhead Fonts. Thanks.
LHF Counselor Trial
A font set that features 3 dimensional overlays and gradient effects, yet is completely vector and scalable? Yes! LHF Counselor is our latest project in progress and we've gone all out with this one. The letters themselves are beautifully balanced and reminiscent of early 1900's English fascia board signs. But that wasn't enough... we then added a prismatic bevel designed with vector gradients and a deep block shadow. Next, add the vector shadow effect on top of the block shadow to simulate highlights. Finally, the set includes a highlight layer and two outline layers to complete the design.

Download this free trial version of LHF Counselor, which includes 7 stackable fonts and contains the letters: S, I, G, and N, so you can experiment and learn how it works. These fonts are named with the letter "T" in the name (for "Trial"). The paid font set includes all letters, numerals and punctuation of course. When you're ready, purchase the complete font set here.
Download

Random Kids
What luck! You Googled "vector cartoon of pregnant woman smoking and dragging kid picking nose" and you found it! Chuck Davis has drawn some weird and unusual kids for various projects over the years. Maybe you'll find one useful for your own project. You never know. Better download 'em just in case. You receive 12 color vector cartoons.
Download

Love is Blind
Another cartoon from Chuck Davis. Completely vector and easy to separate and modify for your project.
Download

Download

LHF Tributary Sample
Download this free "and" with flourishes from David Parr's LHF Tributary font set. If you like it, you might want to check out the rest of the set which includes Regular and Distressed fonts, each with 114 bonus alternates like this one..
Download

Classic Ribbons
You'll probably find some good uses for these simple vector ribbons from Patrick Kalange. Complete with a few bonus panels thrown in for good measure. Just change the colors and add your own text. Vector .ai file format.
Download

Text Effect Brushes for Adobe Illustrator
Patrick Kalange created 68 different custom brushes for Adobe Illustrator specially designed for distressing and adding special effects to your text. Enjoy 5 different libraries to choose from. See instructions inside .zip package.
Download

Couple of Panels
Here's a couple of simple panels we've used a few times. Vector .ai file format.
Download

Download

OTF Test Font
If you are in doubt as to whether your applications can use Postscript OpenType fonts or not, this font will let you know. Because of its superior quality and cross-system compatibility, Letterhead Fonts only offers Postscript OpenType fonts. Click here for more information. After you've installed the font properly and your application supports Postscript OpenType fonts, you'll see this image when typing:
Download

Bergling Sample Panel
Enjoy this free sample from John Davis' LHF Bergling Panels font. Vector .ai file format.
Download

Quadrex Trial Fonts
Test out the 5 part LHF Quadrex font set and see how they work together to create traffic-stopping prismatic words. These trial fonts contain only L,E,T,R,H,A,D letters. Gerber and Flexisign users should read the important notes inside the package.
Download

Vector Chefs Head and Panel
Patrick Kalange hand drew this design for the LHF Retro Ricky font.
Download

Piggy Vector
Chuck Davis hand sketched this lil' guy for a design using the LHF Pickle Barrel font.
Download

Various Vector Halftone Patterns
Set of ten vector halftone patterns.
Download